LGBTQ+ and Gender Justice
Rashida is fighting for people of all genders and sexualities to have the protection and freedom that we all deserve.
As a lawyer at the nonprofit Sugar Law Center for Economic & Social Justice, Rashida protected civil rights. And since becoming a Congressperson, she's joined the Equality Caucus and has pushed for all legislation to take into account the experiences and needs of the LGBTQ+ community.
Ongoing discrimination impacts LGBTQ+ people in so many areas of life, including getting a job, finding a place to live, getting served in stores, and more. As Black trans women are murdered and targeted for violence, and as more and more states are targeting transgender youth, it's especially crucial that we come together in support of trans people and trans rights.
Rashida will not stop fighting for everyone, of all genders and sexualities, to have the protection and freedom to thrive that we all deserve.
Rashida is committed to building a society where every person can live openly as their authentic selves, surrounded by safety and love.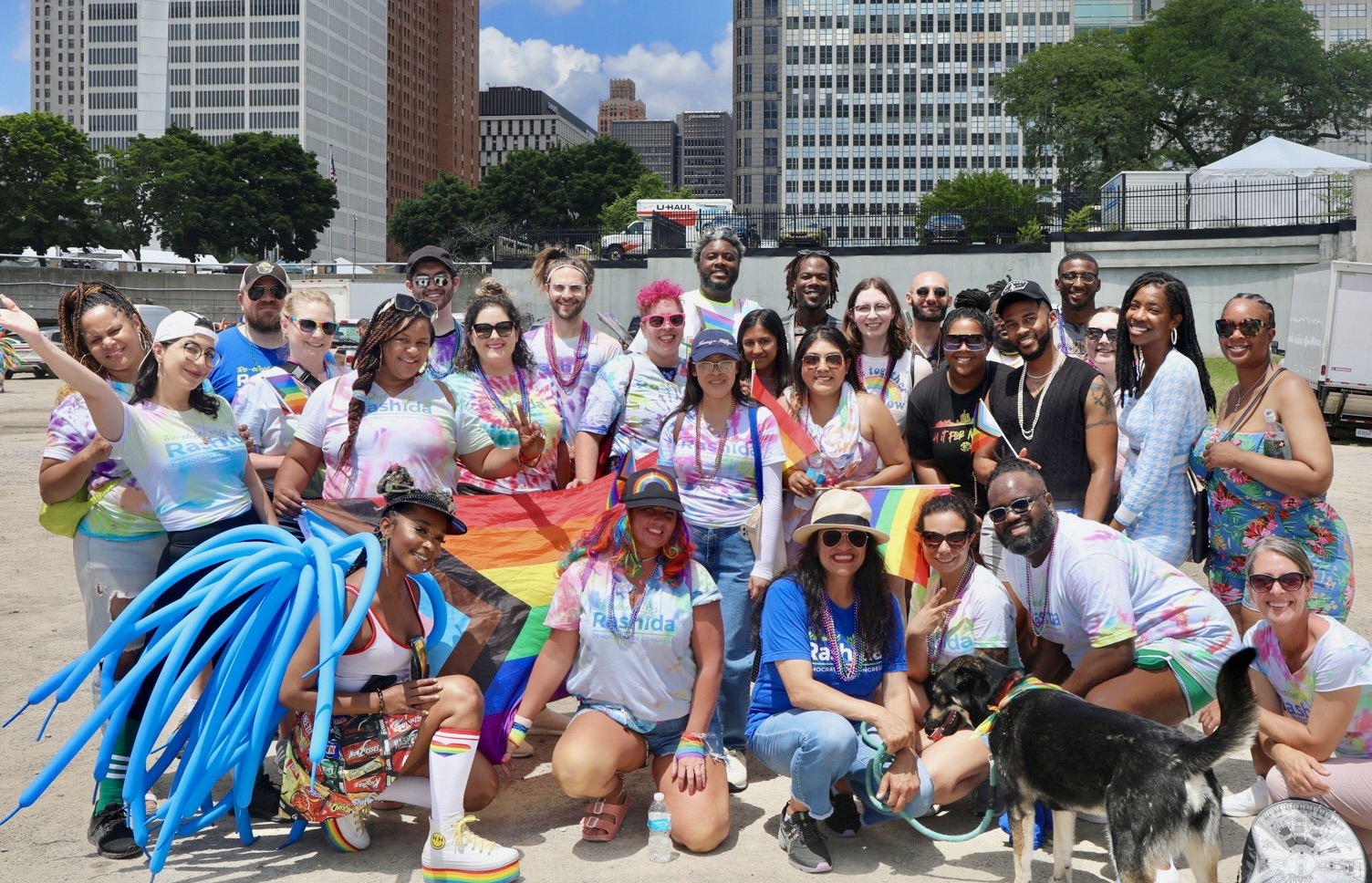 Here are some of the ways Rashida has pushed for LGBTQ+ and gender justice in Congress:
Original cosponsor of the Equality Act, which would extend civil rights protections to prohibit discrimination on the basis of sexual orientation or gender identity, in public and private spaces. It passed the House, but the fight is on in the Senate. 
Introduced the Justice for All Act, historic legislation that pushes back against decades of conservative court rulings to restore the original intent of our civil rights laws. It would combat intentional and unintentional discrimination against people based on race, color, religion, sex, disability, age, or national origin—and it would clarify the definition of "sex" to include sexual orientation, pregnancy, gender identity, sex stereotypes, or any sex-related traits.
Fundraised for local groups such as the Trans Sistas of Color Project and the Ruth Ellis Center. Secured $1 million through legislation for the Ruth Ellis Center to provide safe, affordable, identity-affirming housing for marginalized Black and brown Detroiters, especially LGBTQ+ youth.
Held a subcommittee hearing on the housing and lending discrimination faced by the LGBTQ+ community, where she challenged HUD's attacks on transgender people, including people who are experiencing homelessness and people who need to change their IDs to match their gender.
Participated in a congressional briefing about the human rights violations trans immigrants are facing in detention centers.
Introduced resolution about violence against women in politics, after regular death threats against her and other women in Congress (particularly women of color). Together, we're building a world in which women and nonbinary people are free to fight for their communities and serve in government without fear of violence.
Fundraised for abortion funds across the country to expand access to care—including the local Reclaim MI WIN Fund, which is the only abortion fund in Southeastern Michigan.  
Fought to get rid of the racist Hyde amendment, which has blocked many low-wealth people, people of color, and gender non-conforming people from getting abortions.
Fundraised for the Indigenous-led Sovereign Bodies Institute, which is working to end gender and sexual violence against Indigenous people, including two spirit people. 
Pushed for the Senate to pass the Violence Against Women Reauthorization Act of 2021 after it passed in the House. It expands protections for transgender women to access women's shelters, and ends the longstanding, unjust impunity for non-Native perpetrators of sexual assault, stalking, sex trafficking, and child abuse co-occurring with domestic violence.
Joined the LGBT Equality Caucus in Congress.
Advocates for the rights of trans and nonbinary people to receive medically necessarily gender-affirming healthcare, and fights against transphobia and homophobia.