Delivering Results For All
Rashida's receipts
Rashida has led visionary legislation and pushed for bold changes to our unjust status quo since she began serving in the U.S. House of Representatives in January 2019.
During her first term in office, she was named one of the top 10 Congressmembers to hold the most town halls. In 2021, the Center for Effective Lawmaking named her as the second-most effective member of Michigan's congressional delegation.
To learn about Rashida's constituent services and in-district accomplishments, click here.
Rashida's policy-related accomplishments have led to direct changes in communities across the country, such as:
Signed into law the Payee Fraud Prevention Act, putting an end to fraudulent activity that targets seniors, retirees, and people with disabilities.
Helped create a fund totalling $1.1 billion to stop water shutoffs during the pandemic. Also introduced the Water is a Human Right Act to end water shutoffs, reconnect water services for people whose water access has been shut off, and assist low-income families with paying their water bills—with over 70 members of Congress co-sponsoring the bill.
Secured $3 billion for the Restoring Communities Left Behind Act, which funds home repairs and neighborhood revitalization, as well as homeownership and financing assistance to low-income households. It passed the U.S. House through the Build Back Better Act package.
Passed historic amendments that would provide $23 billion to fully replace dangerous lead-contaminated water pipes, prioritizing communities facing environmental racism and protecting our kids from poisonous exposure.
Passed a bill to expand homeownership opportunities by pushing for more support for small-dollar mortgages: the Improving FHA Support for Small Dollar Mortgages Act of 2021.
Passed 38 bills and amendments so far.
Created the bipartisan Get the Lead Out Caucus in the House of Representatives to push for urgent action to remove lead pipes in every congressional district. In coordination with grassroots water rights coalitions, Rashida and her team organized a tour of Michigan communities with lead contamination, where members of Congress heard directly from community leaders on the ground. By bringing decision-makers to directly impacted communities, we can get Congress and the federal government to act with the urgency we need.
Passed a bill that would remove medically necessary debt from credit reports. Medical debt is the leading cause of personal bankruptcy in our country, but undergoing a medically necessary procedure should never haunt someone financially. That's why Rashida also passed the Restoring Unfairly Impaired Credit & Protecting Consumers Act, which reduces time negative credit stays on a credit report from 7 years to 4 years. The bill also protects people's credit reports from predatory activity, fraud, and medically necessary debt—all things that can lower credit scores and can thus lead to being denied housing, employment, transportation, and other necessities. Rashida also secured an amendment in the National Defense Authorization Act to protect veterans from medically necessary debt on their credit reports.
Passed an amendment putting frontline communities first by remediating toxic PFAS chemicals.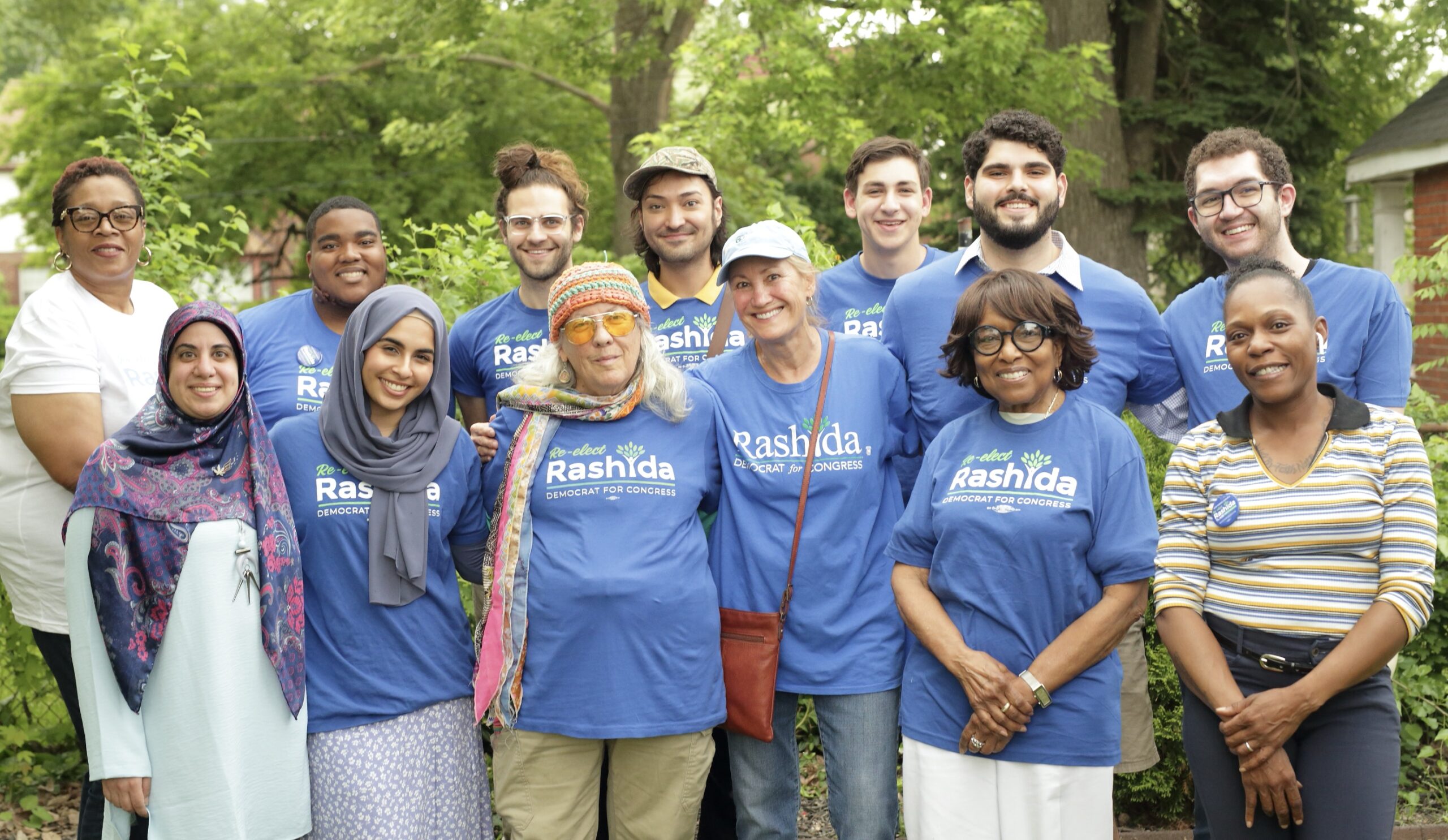 Successfully pushed the federal government to send people COVID stimulus money via prepaid debit cards rather than checks—ensuring accessibility for the 25% of Americans who are unbanked or underbanked.
Passed two amendments to increase renewable energy funding and to require the EPA to research the disparate health impacts of fossil fuel emissions.
Passed an amendment to help ensure equitable use of public lands (like national parks and forests) in environmental justice communities—defined as "a community with significant representation of communities of color, low-income communities, or Tribal and indigenous communities, that experiences, or is at risk of experiencing, higher or more adverse human health or environmental effects than other communities."
Passed an amendment to defund the Department of Justice's "Operation Legend" and "Operation Relentless Pursuit," which used taxpayer dollars to send federal agents to cities across the country under Trump's administration.
Passed an amendment to defund the Trump administration's attempts to criminalize and collect DNA from immigrant detainees, including people as young as 14 years old in Detroit.
Passed an amendment which would reduce racial and socioeconomic segregation in our nation's schools.
Passed an amendment to the Protecting Older Workers Against Discrimination Act, to protect federal employees from age discrimination.
Secured amendment in the House-passed PRO (Protecting the Right to Organize) Act to ensure that people get timely notice for union elections.
Secured amendments in the House-passed For the People Act to expand the right to vote.
Led the fight in Congress for state and local financial COVID relief and secured more than $10 billion for states and local municipalities in the House-passed Heroes Act.
Successfully pushed the Federal Reserve to adjust its lending programs to financially support more local governments.
Led the fight to impeach Trump in the House, and succeeded—twice.
Introduced bills such as the Justice For All Civil Rights Act to restore the original intent of the Civil Rights Act and fight back against discrimination, and the End Child Poverty Act to create a universal monthly child allowance of nearly $400 per child.
In her tenure, she serves on the House Oversight Committee and is Vice-Chair of the Subcommittee on the Environment. She is also a member of the House Financial Services and Natural Resources Committees. In 2020 she became a ranking member on the executive board of the Congressional Progressive Caucus.
---
Rashida also delivers results for her district in innovative ways beyond policymaking.
To learn more about Rashida's top priority issue areas, click here.